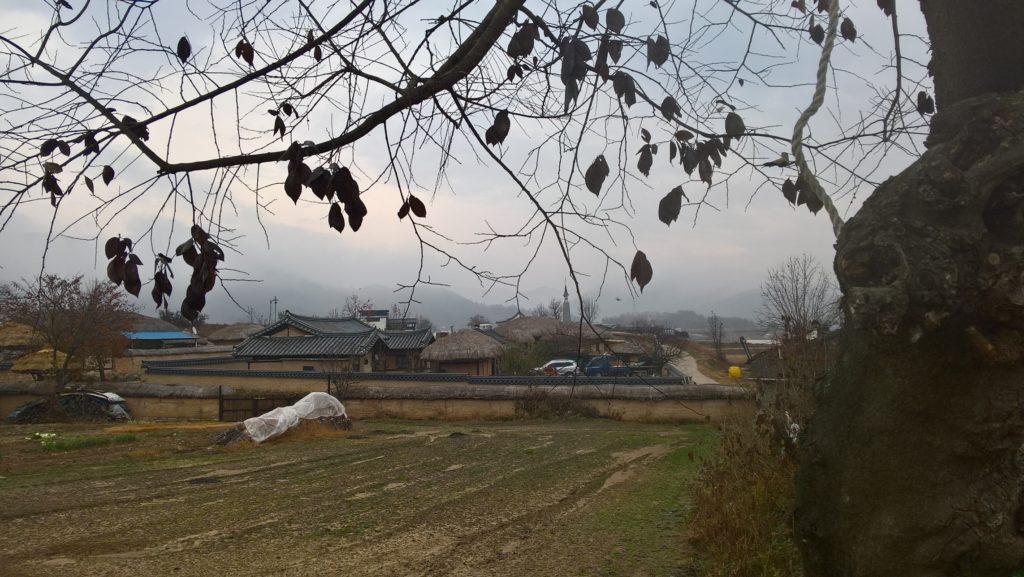 When you stay in Andong, the Hahoe Folk Village is one of the best places outside the city. From Andong station or bus terminal It is easy to travel to Hahoe Historic Village by bus. Travel time Hahoe Folk Village with bus is about 50 minutes. The bus stops near the village ticket office where you can also find the restaurants. From ticket office you can walk to village entrance or take the shuttle bus witch is included in the entrance price. Hahoe Folk Village is marked as a Unesco World heritage.
The village is founded in the 14-15th centuries. The river circles around the village. Within the village you can surprise yourself with viewing the interesting houses. The traditional countryside houses are centuries old. Many with straw roofs , however also some with tile roofs. The village is habitat, so its not always possible to look inside the homes. If you wish you can rent a place for a night and feel the life there more close. However the fun of walking around the Historic Village is still one of the best.
Besides beautiful houses There is some agriculture inside and around the village, friendly people museums. You can enjoy trekking just outside the village. The views are amazing, thought we went in late autumn the fog had something mysterious added to it. From the village you can walk to the river side, Its possible to take a boat tour at the ferry if you wish. Also there is a great route to the Confucian school and museum.
At the Hahoe Folk Village the traditional Byeolsingut mask dance festival is fun to watch. Usually the performance is once a day in the afternoon and the show takes about an hour. The masks are made by people themselves. If Korean language is no strong point of you, the don't worry. There are video screens with the English and Chinese translation of the text..
Another fantastic thing around the Hahoe Historic Village is the mask museum. It informs you about the how, where and why masks where used around the world. The museum is located near the Hahoe Folk Village ticket in the area where you can also find the restaurants. The cuisine is delicious, worth to try is Korean food is also on your list too. There is lost of variation so certain that there will be something tempting to eat. A good idea is go to eat there for lunch break. Head to the traditional Byeolsingut mask dance afterwards.
It is easy to spend a full day in and around the village, especially if hiking and culture is something you desire. When you go there take your time, enjoy and be pleasantly surprised…
Checkout some more nice places to see in Andong
–