Having bought the tickets for the river trip with the Inland Water Company  from Mandalay to Bagan a few days ahead… Early in the morning at 5.30 the time is there to make my way from the Guesthouse to the riverside… Being brought there by a moto driver from the guesthouse we arrive there at the river side.
It is still early enough to board at the ship of the Inland water Company (IWC)… Arrived well on time, with handshake greeting and pay of 2500 Kyat ready to go to Bagan… The adventure would be more adventures as could be expected…. This time of year the Ayerwaddy is a river with shallow waters…. With many sand banks and the shallow waters makes it difficult to manouver…
The area near the river is very beautiful and surprising from moment to the other… We pass the Sagian Hill wich i visited few days before.. Excellent opportunity to make photos and enjoy the view from the riverside… Lady of the IWC checking telling us free breakfast from 7 to 9.00… At around 8.00 we run on one of the sand banks… Crew doing their very best to get the ship moving again….. Ships here are not equipped with sonar so some moments they need to measure the depth with the stick. Seems will take some time so breakfast first…
One small ship tries to help however the power of it too little to make a change… Some time later a small ship comes near the side and captian goes ashore. Little while later returns on board of another ship that comes to ours aid.. connecting the ropes and then they succesfully pull us in the deeper waters again… With the delay of almost 3 hours we continue our voyage from Mandalay to Bagan… The friendly lady purser informs us we will arrive around 21.00 in evening. Offers to call hotel for the reservations and free dinner….
Very good service from the IWC… On the Ayeyarwaddy river we spot many small ships with people waving friendly to us.. Our shipscaptain guiding the boat through the shallow waters… The afternoon trip goes smoothly where we pass under the rail road bridge passing the tows of Ngazun, Myinmu, Si Mee Khon… With views of small settlements near the river side, shipyards and fishermen setteling on the sandbanks this is an amazing and exciting view..
The sunset startsaround 17.00.. will be an hour before becomes dark… Without sonar should be difficult to manouver this vessel… the sunset is beautful, the sunrays turn the Ayerwaddy landscape in to an amazing thing to see… Almost 18.00 sun is almost down and there no large vessels on the Ayerwaddy.. Only few small vessels… While we see the sun go down at one direction it still looks clear when we turn ourselves around..
18.30 Darkness is there and we hit another sandbank… To pass the time just take a short nap…. At 23.00 the organising lady on the vessel in forms us a small boat will come to carry us to the river side.. There a bus will be waiting to take us to the village near…. 20 people can go on the small though long boat, so they make 2 trips to the ship and shoreline…
For me i decide to wait till the 2nd trip will be less crowdy.. Anyway the bus leaves when everybody is there.. around 1.00 in night we arrive at the small city …Half an hour later we are waking up the owner in the middle of the night… Yes arrived in the Guesthouse at New Bagan… Time to shower and taking a rest from this great trip from Mandalay to Bagan… 🙂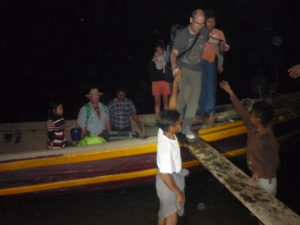 –