Hsipaw is a fantastic place to go for trekking. Go for a day or several days trekking is very pleasant. You have the choice to go trekking with or without a guide… Trekking to the waterfall in Hsipaw is easy to do as a one day trekking adventure. The Yee Shin Guest house provided us the trekking map. So after breakfast on the way i go..  First step is heading to the railway station to view the arrival of the train and local people selling their goods…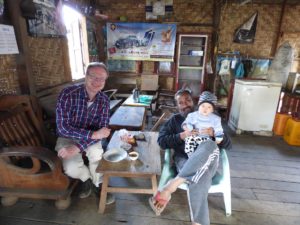 The path near the railroad leads to the main Mandalay-Lashio road.. Near the beginning of the road there is the monastery with the statue of the standing Buddha.. walking the first kilometers on the road we pass a tea house. The friendly Shan owner invites to drink a cup of tea with him.. Interested about the country of origin, though also interesting explanation about the Hsipaw area and its history… Also the family comes to great and before noticing the morning passes.. Time to move on to our waterfall adventure…
Fortunally the sandy path where the Trekking to the waterfall in Hsipaw begins is at close distance. It leads near the Buddhist and the Chinese cemetery that goes all up the first hill.. Quite intensive feeling walking next to the cemetery where people a burried in graves above the ground.. With a short way-up the road we on trek again passing a banana plantation with a small stall where the owners sell water and we free to take a view…
While we continue the path crosses a small stream and then goes way up the hill to the Namtok waterfall.. Is becomes climbing now and pleasure to have some bottles with water… When we reach the Namtok waterfall the stream is small.. This as it is already some months after the raining season.. Must be impressive when you here in October or November..
However still a great place to trek to and enjoy the view… Heading way back down the hill the sight is beautiful.. Taking a different route back we pass a small stream.. Here some animals are taking a bath and keep cool in the water under the shadow of the trees.. The path leads near a small village with the the rice fields at the side..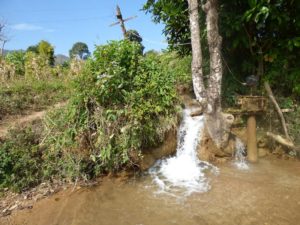 Almost at the end of our trekking path there is a shrine with the statues of two horses.. As at many places in Myanmar also here a donation box is present.. At the end of the trekking path we arrive at the village of MahHai Nalin which is close to the river.. At a tea house i sit down for some rice and tea which is a delicious treat after this trek..
People do not seem to speak English, however the are amazingly friendly and with hand signs and bit of laugh the food and tea is served.. After this few kilometers walk back to Hsipaw.. So ends our adventure of Trekking to the waterfall in Hsipaw
Next Day Its time to head for Mandalay to visit the Monywa and the largest standing Buddha
–