Mandalay has many exciting places to visit in the city. However also in the area surrounding the city there is a lot to travel to. Many of those places will give you a fantastic and deep inner experience… Mandalay has three mountains that are very interesting to visit. Two of them are Sagaing Hill and Mandalay Hill. Mandalay hill is situated north of the Mandalay Palace. Finding your way by taxi, walking or cycling is easy. The Mandalay palace is easy to find heading north and there easy to spot the beauty of Mandalay Hill..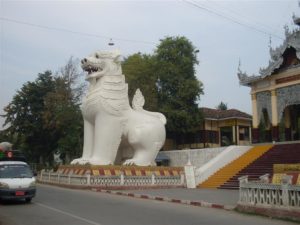 Though many tourists go there to take pictures of the sunset. The hill has also much to offer in the day time… The view over Mandalay on a clear day is amazing… On the foot of the mountain 2 huge dragons guard the entrance.. Also on the foot of Mandalay hill you find a lot of shops places to eat and drink… If you go by bicycle most people of the shops offer to watch over you rented bicycle for a small fee. Also i placed my rented bike there and after drinking a cup of coffee went up on the mountain..Ofcourse as many places in Myanmar it is an obligation to take of your socks and shoes.. A friendly lady has a store place at the right of entrance…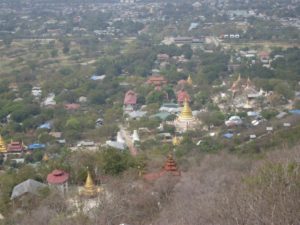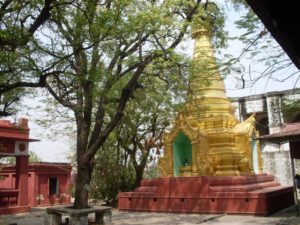 With a cooled bottle of water in the hand its time to take the first steps.. With an easy start, the skill of endurance will test you quickly when the stairs go more steeply upwards. Next to the stairs however are many opportunities to sit and take a breath.. Also for me with 41*C in that moment of day.. The cool water tasted even more then delicious… Many people here have small stalls selling small souvenirs, shirts or something to eat and drink… Many of those people are willing to make a talk with you, if you open for it… Atleast that is the experience that i felt heading up the Mandalay Hill… Regular on this way up there, are shrines, small stupas and the golden statue of of Buddha that are all interesting to see…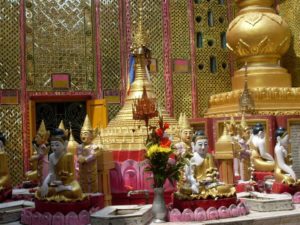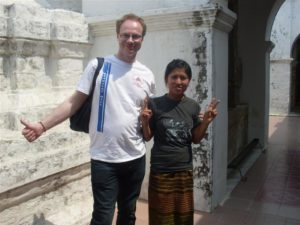 About half way on the road upwards i met this lady that besides a fantastic trustworthy character she also has a high local knowledge. In my next days in Mandalay she would be my guide through the amazing area of Mandalay. Of these travels we made i write more on my blog Pages… Continue our way up the view over the city is very impressive… Also the beautifully tiled walls and pillars of the places of worship on the way up makes me speechless… Time for a photo with the green man… Exploring this part of Mandalay Hill gives many impressions… So much beauty you can find in Myanmar..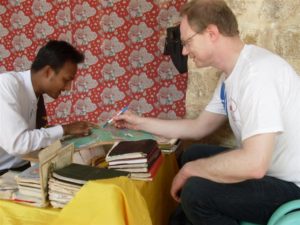 On our way down at Mandalay Hill a friendly Palmist offered me a reading of hands and future.. Though the believe in it can be different by your personal meaning, for me it was something to experience in this part of the world… Yes, the future looks bright he notices, with many travels ahead of me… After the Hand reading it is time to find the exit/entrance and make plans for next trips with my guide and new friend … Read more about our travels in Mandalay at Mandalay Division A voyage through a Kings Land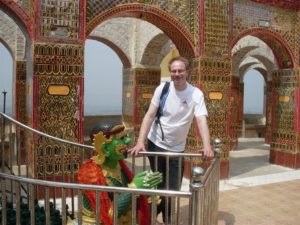 –