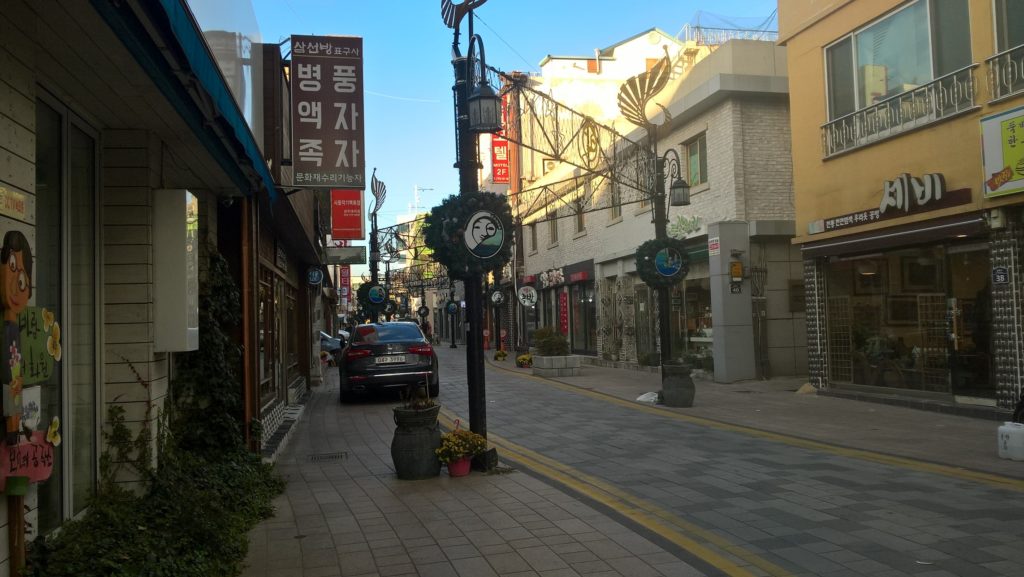 When you visit south Korea its possible Gyeongju comes across your mind… Considering to spend a few days in Gyeongju can be very rewarding. There are plenty activities in and around Gyeongju. Much more then you might expect at a first look. The city is well known because of its many historical sites and world heritage places. Though some of them are frequently mentioned on many internet websites, Gyeongju has much more to offer.
Gyeongju has been the capital of the Silla kingdom. Having about a million citizens at its peak. Now faded to the background the city is more then just an interesting place. It has become a new undiscovered country for travellers..
Inside Gyeongju city you can find many nice places to have a delicious lunch, dinner or a cup of coffee or thee. There are many shops you can take a look at during an evening walk. If you just enjoy a place to sit, chit chat and relax after a day of excursions you find it here. Some excitement and evening entertainment can also be found in the city shopping center. Ofcourse there is a night market a small one however also a larger one that is really enjoyable to spend some time. Ask your guesthouse for the location and opening hours. This as our guesthouse informed us it can change with the season.
An evening walk in Gyeongju enjoyable when you start near the riverside and then make your way up to the city wall. The city wall is close to the city center. At the City wall you can make some beautiful sunset photos wit the mountains on the background. Though part of it has been new rebuild it is a amazing view anyway. From there you can walk into the city center and enjoy food view and entertainment is you wish.
Some Historical places in Gyeongju are the Daerungwon Ancient Tombs including 23 tombs of burried kings. The park is located at Gyeongju city. Easy to walk there when you make your city walk.
Inside the tombs you be able to see the kings remained items which where buried with them. Also the Bomun tourist complex located near the Bomun lake can be a welcome distraction. Especially as the Gyeongju world Culture expo park is located near it. You can combine a visit to the park together with a visit to the Bulguksa Temple and Seokguram Grotto.
As mentioned Gyeongju has so many historic areas, that its wise to plan the places you wish to visit. This because many of that places are outside the city, so it is more efficient to go by bus. Most interesting Historical places and hikes around Gyeongju are:
Yangdong Folk Village a Unesco world heritage. About 40 minutes by bus. (info see my post)
Gyeongju World Expo Park for culture and Amusement. About 20 minutes by bus. (info see my page)
The 12 centuries aged Bulgsaka Temple dating year 751. About 35 Minutes by bus. (info see my page).
Woljeonggyo bridge dating year 760.
Donggung Palace Dating Year 679.
The Gyeongju National museum is to spend at a rainy day.
Wolseong Fortress site.
Cheomseongdae Observatory.
Gyeongju Namsan region Recommended trails
1* Direction to the Dongnamsan Mountain (5.9 Kilometers, about 1 hour and 30 minutes)
Route: Woljeonggyo Bridge -> Tapgol Village -> Hwarang Training Center -> Tonggiljeon -> Seochulji Pond.
2* Direction to the Samneung (5.8 Kilometers, about 1 hour and 20 minutes)
Route: Woljeonggyo Bridge -> Najeong Well -> Poseokjeong Pavillion -> Samneung.
Namsang region interesting places are:
Najeong well.
Changnimsa temple site.
Samneunggol vally.
Yongjanggol Valley.
Departure and arrival To and from Gyeongju is possible by bus and train. From Seoul, Andong, Danyang you can take the intercity to Gyeongji station. By KTX train you can arrive or depart from Singyeongju station. From or to Singyeongju station is about 30 minutes by bus near the bus terminal. Its recommended to ask the bus info at the tourist office in Gyeongju about the connection first.
Check here about: Gyeongju World Expo park and Bulgusaka temple
Check here about: Gyeongju Yangdong Village
Next read ahead: South Korea Experiences in and around burstling Busan …
–