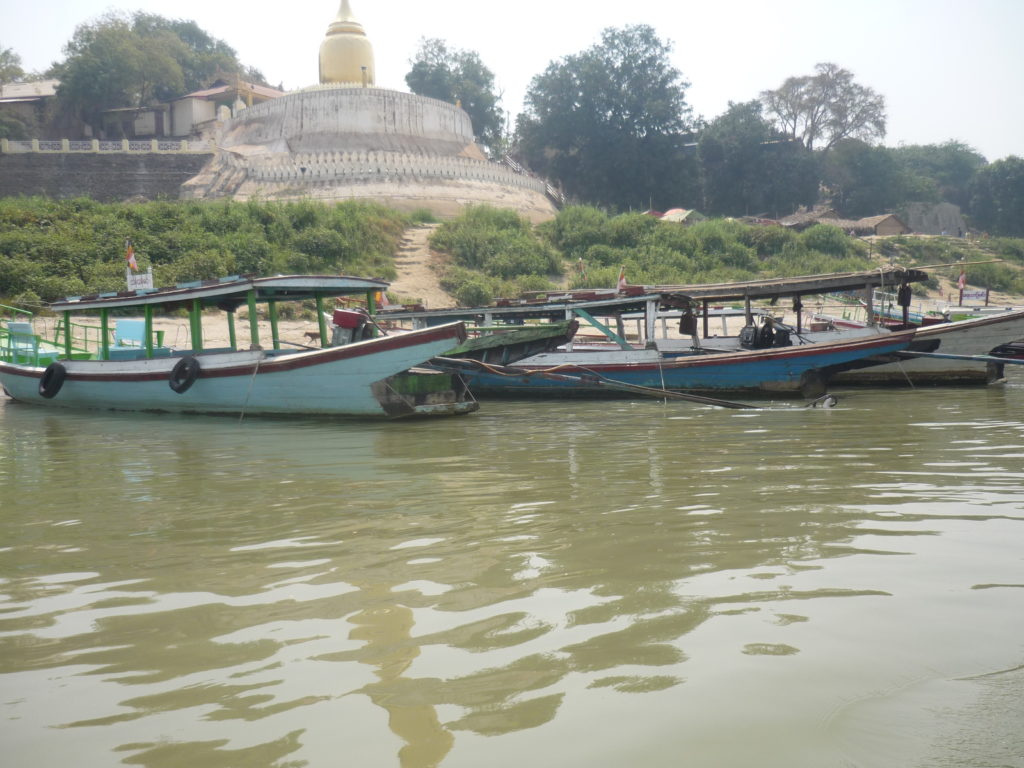 Bagan, the sun always rises early in the morning. Around Bagan near the riverside you can find many locals with a boat that takes you across the river. Many of them offer their services for an affordable price. The day before my trip I met one of the skippers witch clearly informed me about price and time of departure. The e-bike brings me to the riverside where a few houses and a riverbank full of boat color the landscape. Ready to start my Bagan adventure trip…
The skippers son helps keeping the boat stable so i can board… Immediately after boarding we set course to the other side of the river… Heading downstream with the flow of the Ayeyarwady. Funny we spot a man taking a nap while floating on the river… Time has different meaning here… The view is interesting with local people working at the riverbanks… The Ayeyarwady waters are shallow this time of year. However these boats are specially constructed to operate on the river…
After 30 minutes we arrive at a small village the other side of the river… From here it is easy to take a hike trip across the path that leads up to the mountain top. From far away you can see the mountain with a huge monastery on top of it… Walking outside the village the sand path leads to the railway crossing. Gives an idea for train trip here next time… On road some locals with friendly smiling faces wave and offer to make photos of them..
Soon after the railroad crossing we reach the foot of the mountain. From here at ¼ of our walk a stone stair way leads up up mountain… Nice challenge with a temperature of 41*C. Fortunately we took enough bottles of water with us. The trip way up the stairs is fantastic .!! What an incredible view here… Looking far away across the Ayeyarwady river on one side and when turn to the other side the impressive monastery up the mountain…
During the walk up there are a few covered places to rest that takes us out of the sun… One is an open shelter placed excactly over the path.. A perfect place to sit down, take a bottle of water and refill the lost moisture… The path continues around the mountainside, then again a steep stoned stair path leads us upwards near the mountainside.. A friendly monk walks down the stairs and offers water to drink… A small donation of 50 Kyat (4 cents) makes him very happy…
Finally after about an hour walk the white painted walls of the monastery are reached.. The patch approaches the monastery at the rear side… Most tourists come by small private bus from the front side… However this trip we made is more then worth the climb… The monastery is very impressive! Besides the amazing view over the area, the golden Stupa and ivory elephant mark this beautiful place… A great surprise is meeting my friend Romina here…
Time for a soft drink and exchange some travel news.. After half an hour its time to start the way down… This goes a lot faster then the way up… 🙂 The view on the way down is fantastic.. Really a pleasure to make this trip.. Almost down I met a girl who just started her way up… "Is it far?" she asks me.. She sighs when I mention she is just at 1/4-th of her way up …
The village is there again and the boat awaits to bring me to the point of first departure… When we arrive on the other side at riverbank the Bagan adventure trip has come to an end… Now its time to go for a deserved and delicious evening Dinner….
In evening the night  express bus will arrive to take me from Bagan back to to Yangon!! A new day, Another adventure awaits…
Read More about: Bagan Myanmars Mystery tour